International Law
Our International Law section is primarily divided into two parts: (1) inbound work representing foreign investors and companies doing business, or desiring to do business or invest in the United States; or facing disputes or requiring to initiate disputes in the Unites States; and (2) outbound work representing domestic companies and individuals desiring to engage in business abroad, including energy, mining, manufacturing, and infrastructure projects, with foreign governments or private groups.
Typical Projects
Foreign and domestic joint ventures, mergers and acquisitions, transnational project planning, structuring and financing.
Foreign infrastructure projects.
Negotiation with and representation of foreign governments.
Global manufacturing, marketing, technology licensing and protection of intellectual property.
Maritime matters.
Project management.
International trade and tax.
Transnational energy projects.
International estate planning and asset protection planning.
Real estate transactions.
Transnational litigation management and arbitration.
Counsel, analysis and advice with respect to extraterritorial reach of U.S. laws including the Foreign Corrupt Practices Act, Trading with the Enemies Act and import/export laws.
Formation of foreign subsidiaries for domestic clients.
Foreign intellectual property transactions and filings.
Representative Transactions
Purchase of the largest shrimp farm in the world located in Panama from Ralston Purina.
Purchase of a refinery located in Hamburg, Germany, on behalf of a subsidiary of what is now part of El Paso Natural Gas from Esso, A.G. for $140,000,000.
Sale of Houston Shell & Concrete Co. and Gulf Coast Portland Cement Co. to Cementos Mexicanos (CEMEX) for $45,000,000.
Sale of 75% of an energy service company based in Houston with offices in Venezuela for $28,000,000.
Representation of a domestic NYSE medical products company in the purchase of the medical products business of a company with operations in the Netherlands and Belgium for $14,000,000.
Purchase by domestic client of a United Kingdom software company for $8,000,000.
Representation of a domestic energy service company in sale of a minority equity interest to a large Japanese multinational company.
Representation of a domestic energy service company in a $60,000,000 sale to a Dubai multinational company.
Directed legal team in the sale of all of the assets of large foreign hotel chain (over $100 million).
Directed legal aspects of sale of shrimp boats to foreign fishing cooperatives for largest shrimp packer and operator in the Southwest.
Directed legal efforts of state savings and loan institution in establishing numerous money exchange operations outside the U.S.
Guided U.S. equipment and product manufacturers, distributors, and suppliers in setting up international sales and marketing organizations, including drafting of underlying agency, distributorship, and licensing agreements, and registration of trademarks and trade names in foreign territories.
Spearheaded legal efforts of U.S.-Mexican consortium in multimillion dollar acquisition of division of U.S. public company.
Establishment of foreign subsidiaries for domestic entities.
Establishment of domestic subsidiaries for foreign entities.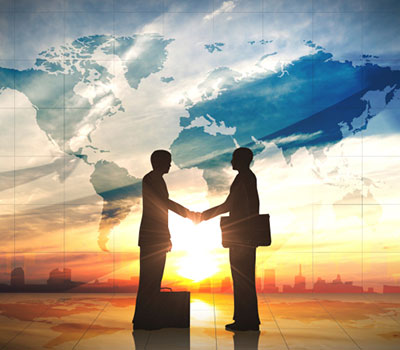 Attorneys